Forj CEO pursues bolder approach to growth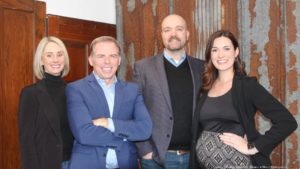 The Forj leadership team (from left): Kristen Wright, chief experience officer; Kurt Heikkinen, CEO; Mark Sehmer, chief technology officer; and Amber Winter, chief client officer.
Carrie A. Shepeard, Women in Bloom Photography

Courtesy of BizJournals.com By Teddy Nykiel – Reporter
January 12, 2023, 10:50am CST
As its CEO for around a decade, Kurt Heikkinen previously led the growth of Montage Talent Inc., a Delafield-based recruiting and hiring automation company that merged with a Cleveland firm in 2019 to form what is now Modern Hire.
With his latest Milwaukee-area technology startup Forj, Heikkinen is tapping many of the same investors that backed Montage but isn't taking as long when it comes to growing the business.
Less than two years after its launch, Forj raised $15 million and merged with Madison firm Web Courseworks as it looks to grow, Forj recently announced.
"We're being more bold and we're being more aggressive early on," Heikkinen said. "It was several years into Montage before our first acquisition."
Forj makes an online platform designed to help professional organizations engage members through virtual events, online communities and educational experiences. Web Courseworks is a learning management system that will be integrated into Forj.
Following the merger with Web Courseworks, Forj has around 65 employees — about 80% of which are in Wisconsin, Heikkinen said.
Forj currently serves around 75 clients, primarily professional organizations in industries including health care, education, science, technology, and government, he said.
"Individuals in … many professions are seeking that sense of connectedness, that sense of learning, that sense of belonging outside of their traditional employer," Heikkinen said. "These communities of practice are growing dramatically, and they need technology to help support their mission."
The $15 million investment in Forj was led by Plymouth Growth, an investment firm in Ann Arbor, Michigan. Baird Capital and Gary Comer Inc. (GCI), a Waukesha private equity firm established by the late founder of Dodgeville-based retail firm Lands' End Inc., also invested. Plymouth Growth, Baird Capital and GCI were all investors in Montage.
Forj was launched in 2021. With the latest funding, the company has raised at least $21 million to date, according to Wisconsin Inno reporting. In June 2021, the company raised $4.5 million from Baird and GCI and at the time said it had raised a total of $6 million.